Highlights from our projects
Frictionless Data
We continued our work funded by the Sloan Foundation to help researchers be more reproducible by implementing Frictionless Data software into their data workflows. This project consists of:
Pilots: hands-on collaborations with researcher teams to solve existing data workflow issues
Tool Fund: mini-grants for developers to create open tooling for reproducible research using Frictionless Data software
Fellows Programme: training early career researchers in open science best practices by using Frictionless Data with their own research data
We started two pilot collaborations with the Biological and Chemical Oceanography Data Management Office (BCO-DMO) and with the Catalyst Cooperative. The Catalyst pilot liberated public utility data via datapackages and phase 1 of the BCO-DMO pilot used datapackage pipelines to clean oceanography data.
We ran a successful Tool Fund where we funded four grantees who created tools that implement Frictionless Data datapackage support for the biodiversity DarwinCore Archive, Open Referral data, Neuroscience Experiments System data and data in Google Sheets.
We started the first cohort of the Fellows programme, training four fellows. You can read about their ongoing learning here.
Finally, we announced joint stewardship of the Frictionless Data project with Datopian, and began work together to redo the Frictionless Data website.
School of Data
School of Data's place within the Open Knowledge Foundation underwent a strategic shift in 2019, alongside the rest of the organisation. Under the terms of this transition, the School of Data network will be supported to become an independent and self-funded community, leading to the Open Knowledge Foundation becoming a normal member of the network.
As part of this strategic shift, the School of Data team has been redeployed in order to embed data literacy trainings and practices across our offerings, leading to the formalisation of our offerings of data trainings. In 2019, the team started work on new strategic priorities where its expertise is relevant, such as algorithms and artificial intelligence. This led to the launch of a pilot capacity-building project for legal professionals around algorithms and AI, the Open Knowledge Justice Project.
We have been running several data literacy projects in parallel to the transition. We've worked with Hivos on their Open Contracting programme; with Publish What You Pay to organise sessions during their Global Assembly; and with the Natural Resource Governance Institute on a transparency dashboard for the extractives industry. New international programmes have been launched with Transparency International, Hivos and the European-Union funded CoAct research consortium.
Open Spending
In 2020 we continued to support governments in making their finances more transparent In close partnership with the Global Initiative for Fiscal Transparency by building on our OpenSpending platform and providing on-call support though our open fiscal helpdesk, helping governments including Argentina, Croatia, Mexico and South Africa to publish their budgets in the Fiscal Data Package format. The resulting data is all available on our central OpenSpending portal, which provides easy ways to find data with the OS Explorer; multiple ways of visualising the data out-of-the-box via the OS Viewer; and a sophisticated application programming interface for more technical users of the data.
Services
UNHCR
This year we continued our work with the United Nations Refugees Agency by developing their RIDL Platform further. RIDL is a centralised and secure data repository that ensures their team is able to use its valuable raw data to its full potential and make it available externally for operational partners, as well as preserving it for future use.
Honduras
We supported the government of Honduras in the development of their open data strategy and portal by providing technical support to our partners Datopian, and organising the training component of the engagement. We created a full programme designed to develop data skills and build capacity on use and maintenance of the platform. We also focussed on the need to promote the value of open data re-use, the need to develop a strong community of data re-users and collaboration amongst government partners.
DSM Biology
DSM is a global purpose-led, science-based company specializing in nutrition, health and sustainable living. It aims to create brighter lives for all by using scientific and innovation power to tackle some of the world's greatest challenges. We supported their team by providing technical training and overseeing development of their CKAN-based internal data platform, which also makes use of Frictionless Data.
Right to Education Index (RTEI)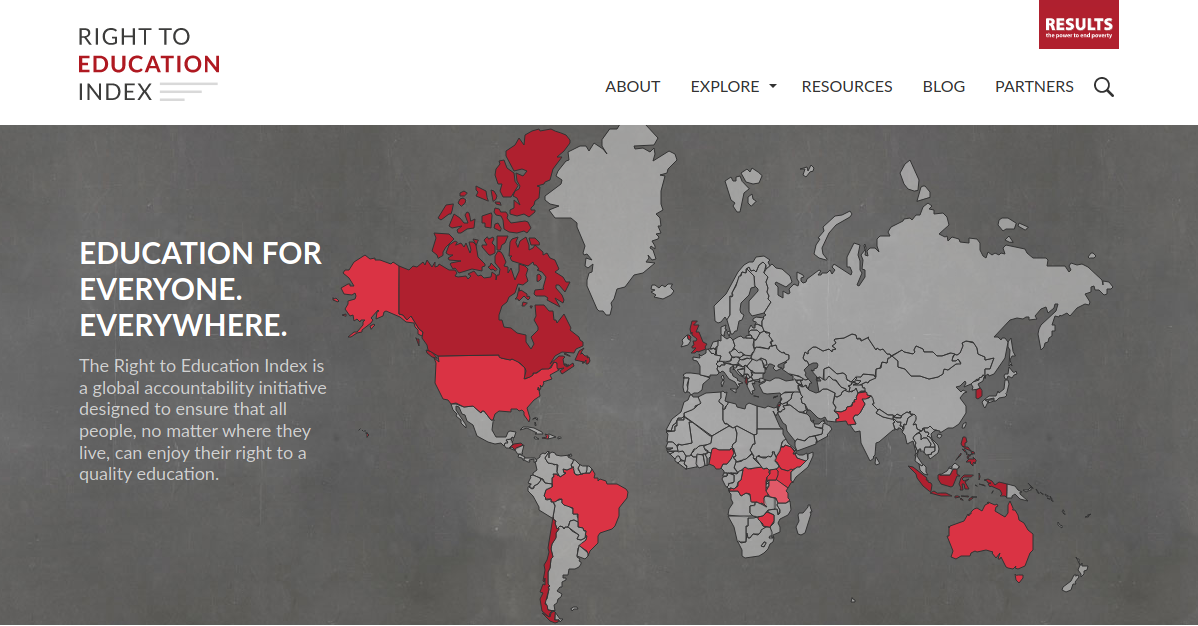 The Right to Education Index (RTEI) is a project of RESULTS Educational Fund. It is a global accountability initiative that aims to ensure that all people, no matter where they live, can enjoy their right to a quality education. We first partnered with RTEI in 2016 to build an open tool that monitors the satisfaction of the right to education based on international human rights law frameworks. Advocates, researchers, and all citizens can use RTEI to engage in informed dialogue about the satisfaction of the right to education. This year we continued to support the team with data updates and improvements to the website.